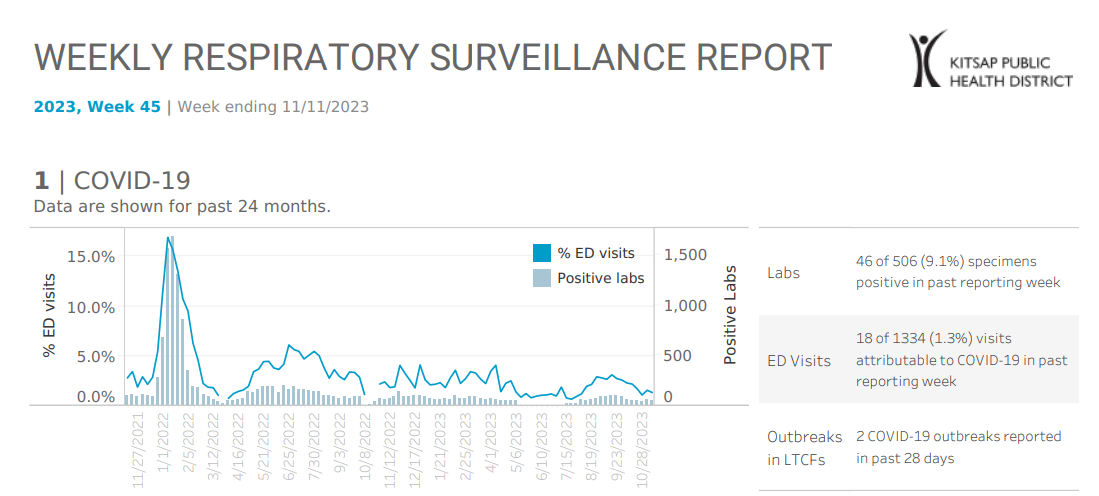 Click here to access week 45 of the Kitsap Respiratory Illness Report.
In the week ending Nov. 11, Kitsap Public Health District saw increasing numbers of labs positive for influenza and respiratory syncytial virus (RSV) reported by our sentinel respiratory reporting laboratories, indicating that flu and RSV are rising locally.
Local COVID-19 indicators remain low. 1.3% of emergency department visits were attributable to COVID-19 and there were fewer than 10 emergency department (ED) visits attributable to either influenza or RSV. Kitsap sentinel reporting labs reported 46 positive COVID-19 tests, 32 positive influenza tests (20 influenza A, 12 influenza B), and six positive RSV tests.
On average, about 10 hospital beds at St. Michael Medical Center were in use per day for COVID-19 or influenza patients.
At Kitsap long-term care facilities (LTCFs), there have been two COVID-19 outbreaks reported in the past four reporting weeks, and no influenza outbreaks.