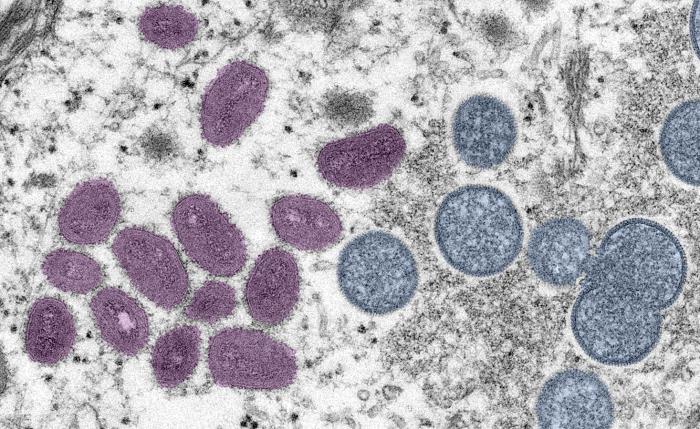 Actions requested
BE AWARE that mpox (monkeypox) cases continue to be reported in Washington state and a cluster of mpox cases was recently identified in Chicago. Public health officials are concerned that spring and summer events could lead to a resurgence in cases. See the Background section below for more information.


OFFER OR RECOMMEND JYNNEOS VACCINATION to prevent infection or serious illness in patients who are at higher risk for potential exposure to mpox. Currently, CDC does not recommend routine immunization against mpox for the general public.

Providers can now request JYNNEOS vaccine directly and orders can be shipped directly to provider clinics. Fill out this form to request JYNNEOS vaccine.

To help minimize overstocking, please place orders in increments of 20 vials and for an amount to cover a 2-3 week period. Shipments can take up to 2-3 days to receive from date of order.
Please note, providers need HPOP accounts to make an order. For assistance with setting up an HPOP account, please reach out to: mcm@doh.wa.gov.

Kitsap Public Health offers JYNNEOS vaccination on Wednesdays in downtown Bremerton.
Extensive risk assessment should not be conducted in people who request vaccination to avoid the barriers created by the stigma experienced by many who could benefit from vaccination.

People in communities at risk (e.g., gay, bisexual, or other MSM; transgender or nonbinary people) asking for vaccination is adequate attestation to individual risk of mpox exposure.

People who previously received only one JYNNEOS vaccine dose should receive a second dose as soon as possible.
JYNNEOS vaccine can also be given as post-exposure prophylaxis (PEP) to people with known or presumed exposure to the mpox virus, and to people with certain risk factors and recent experiences that may make them more likely to have been exposed to mpox. Call Kitsap Public Health for guidance at 360-728-2235.



EDUCATE patients on mpox risk factors and prevention.

CONSIDER MPOX when determining the cause of a diffuse or localized rash, including in patients who were previously infected with mpox or vaccinated against mpox.

Conduct a thorough patient history to assess possible mpox exposures or epidemiologic risk factors.

It is important to take a detailed sexual history for any patient with suspected mpox, as the virus is usually transmitted through close, sustained physical contact and has been almost exclusively associated with sexual contact in the current global outbreak.

Perform a complete physical examination, including a thorough skin and mucosal (e.g., oral, genital, anal) examination to detect lesions of which the patient may be unaware.

Differential diagnoses include herpes simplex virus (HSV) infection, syphilis, herpes zoster (shingles), disseminated varicella-zoster virus infection (chickenpox), molluscum contagiosum, scabies, lymphogranuloma venereum, allergic skin rashes, and drug eruptions.

Specimens should be obtained from lesions (including those inside the mouth, anus, or vagina), if accessible, and tested for mpox and other sexually transmitted infections (STI), including HIV, as indicated. The diagnosis of an STI does not exclude mpox, as a concurrent infection may be present.



NOTIFY Kitsap Public Health District of any suspected or confirmed mpox cases by calling 360-728-2235. The Health District will conduct case and contact investigations and can provide guidance or access for JYNNEOS vaccination and Tecovirimat (TPOXX) treatment.
Background
A global outbreak of mpox began in May 2022. Previous outbreaks in places where mpox is not endemic were mostly related to international travel; however, this outbreak spread rapidly across much of the world through person-to-person contact, disproportionately affecting gay and bisexual men, other men who have sex with men (MSM), and transgender people. Most patients with mpox have mild disease, although some, particularly those with advanced or untreated HIV infection, may experience more severe outcomes.
As of May 10, 2023, a total of 30,395 cases have been reported in the United States. This outbreak had a peak of about 460 cases per day in August 2022, and gradually declined, likely because of a combination of temporary changes in sexual behavior, vaccination, and infection-induced immunity. However, CDC continues to receive reports of new cases and clusters in the United States and internationally.
CDC and local partners are currently investigating a cluster of mpox cases in the Chicago area. From April 17 to May 5, 2023, a total of 12 confirmed and one probable case of mpox were reported to the Chicago Department of Public Health. All cases were among symptomatic men. None of the patients have been hospitalized. The median age was 34 years (range 24–46 years). Travel history was available for 9 cases; 4 recently traveled (New York City, New Orleans, and Mexico).
Although vaccine-induced immunity is not complete, vaccination continues to be one of the most important prevention measures. CDC expects new cases among previously vaccinated people to occur, but people who have completed their two-dose JYNNEOS vaccine series may experience less severe symptoms than those who have not.
Spring and summer season in 2023 could lead to a resurgence of mpox as people gather for festivals and other events.
Additional resources
Contacting the health district
Call: 360-728-2235 and leave a message. Includes reporting notifiable conditions 24 hours a day, 7 days a week. Leave the patient's name, date of birth and disease.
Fax: 360-813-1168.
This advisory is also posted on the health advisory page of our Provider Resources website, providers.kitsappublichealth.org.
EDIT: We edited the text of our original advisory to remove information from the CDC that did not comply with Kitsap Public Health District's data reporting guidelines.